Rajasthan CSR Awards 2018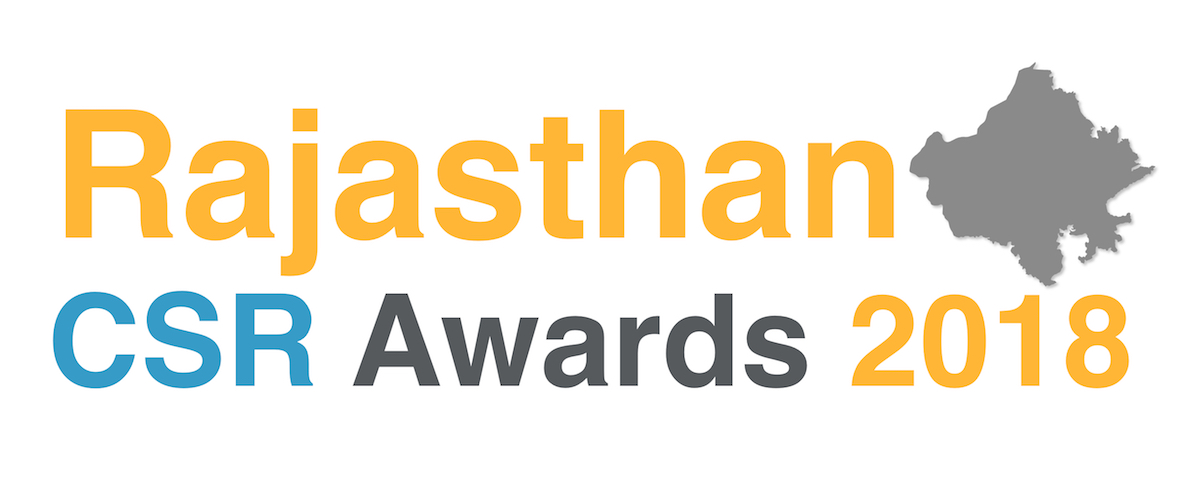 Thanks a lot for overwhelming response, the application process is closed now!
2nd Rajasthan CSR Awards and Recognition
The Rajasthan CSR Awards is an initiative of Government of Rajasthan to encourage companies, CSR foundations and implementing partners to deliver high impacts through CSR projects and adopt multi-stakeholder approach leading to excellence in project outcomes.
This initiative focuses on identifying high impact CSR projects in Rajasthan. The Awards seek to appreciate project specific impacts made by the organizations in particular thematic areas, to set benchmark in project planning, identification of partners and delivery of results.
The Awards will be presented in a gala ceremony during Rajasthan CSR Summit 2018 to be held on 6th February 2018. The event information is available at www.rajasthancsrsummit.in
Objectives
The overall objectives of the Rajasthan CSR Awards are to:
Identify best CSR projects in key thematic areas and understand how organization can deliver high impact CSR projects

Highlight the success of CSR projects and commitment of the organizations by recognizing them.

Motivate companies, CSR foundations and implementing partners working in Rajasthan to deliver high impact CSR projects through collaborative approach

Enhance the exchange of CSR best practices
Eligibility/Qualification Criteria for Applications
CSR Project should be implemented in Rajasthan.

Companies registered under Indian Companies Act, partnership firm, limited liability partnership, cooperative society, society, trust or any other business entity, are eligible to apply.

Government departments and PSUs are also eligible to apply.

Project should be in line with CSR Rules of Companies Act and aligned with Schedule VII

Each project needs to be uploaded separately. Each organization can apply for maximum 3 projects.

Office of Commissioner, Industries and Secretary CSR, Government of Rajasthan has all rights to seek any clarification/documentation/proofs of claims made by an applicant related to CSR project.

The project details must be complete in all respect. Incomplete details will not be considered
Note: There is no fee to apply for the Awards.
Award Categories
1 Agriculture, Food and Nutrition
2 Healthcare
3 Education
4 Skills Development
5 Livelihoods
6 Energy
7 Environment
8 WASH (Water, Sanitation and Hygiene)
9 Women Empowerment
10 Rural Development and Infrastructure
11 Special Categories (Old Age, Specially-abled and others)
Rajasthan CSR Awards 2018 shall be awarded in following 11 categories :
1. Agriculture, Food and Nutrition: Projects on agriculture, farming, eradicating malnutrition,
2. Healthcare: Projects in healthcare, public health, preventive healthcare, use of technology in healthcare leading to better healthcare services or outcomes
3. Education: Project in education, special education, awareness building, education infrastructure.
4. Skill Development: Project in vocational skills and employability enhancement among children and youth
5. Livelihoods: Project in areas of creating livelihoods opportunities, sustainable livelihoods, economic empowerment, market-linkages for community products, agriculture value-chain, SHGs capacity building etc.
6. Energy: This category covers projects in areas of energy, renewable energy, environmental sustainability, ecological balance sustainable transport, waste to energy,
7. Environment: This includes project related to recycling, natural resource management, conservation, plantation etc.
8. WASH: Projects in line with water and sanitation, hygiene, Swachh Bharat Mission, behavioural change for use of sanitation and push for cleanliness in project/programme mode.
9. Women Empowerment: Promoting gender equality, Empowering women to participate fully in economic life across all sectors, setting up homes and hostels for women
10. Rural Development and Infrastructure: A rural development and infrastructure project for better public facilities, better living conditions and improvement in terms of access, quality of life in rural area. For example construction of road, bridge, community hall etc.
11. Special Categories (Old Age/Specially-abled/armed forces etc): This is a broad category covering areas of old age related work, specially-abled persons, orphan children, street children, armed forces related project. (covers areas not covered in any of the above categories)
Procedure to upload the award application:
For New Users :
Step 1: Register on CSR Portal of Government of Rajasthan, along with required documents (link: https://csrrajasthangov.in/registration/index.html).
While filling online form, you are required to upload relevant documentation (such as: PAN Card, Expenditure statement in Rajasthan dully certified by CA (in the prescribed format), etc.)
Step 2: Verify your email address to activate your account
Step 3: After verification of e-mail ID and approval by Office of Commissioner Industries &
Secretary, CSR, please login into the system with your User-name and Password
Or
For Registered Users
If you already have registered before, please use the same to login (https://csrrajasthangov.in/registration/index.html).
Common Steps
Step 4: In first section, please upload the application form.
Step 5: For additional documents like images, reports, please upload them as attachments
Step 6: Click on Submit.
In case of any technical issues, please contact:
Evaluation Process
Each application will be reviewed by eminent panel of Jury.

The Jury names shall be disclosed on the website by first week of January.
Important dates
Open window to submit the application form: 20th December 2017 – 25th January 2018
Screening of Awards: 31th January 2018
Award ceremony: 6th Feb'18, The Lalit, Jaipur
Disclaimer
Government of Rajasthan and the partners for this summit accept no liability for any loss resulting from the disclosure of information concerning an applicant and project, though all reasonable precautions will be taken to maintain secrecy

Office of Commissioner, Industries and Secretary CSR, Government of Rajasthan and the Jury will have the sole right and discretion to reject entries, which in their view, may not meet the basic specified criteria. The decision shall be final and binding on all parties concerned, and will be based on project details registered on CSR portal.

The Rajasthan CSR awards recognizes that companies may have widespread operations, however for the aforementioned awards, the Rajasthan Government will only recognize the said project that the company has implemented/supported in Rajasthan

Government of Rajasthan, as well as its partners, disclaim any responsibility or liability to a third party for any decision based upon outcome of aforementioned CSR Awards. The Award outcome should not be relied upon to identify and detect CSR practices, which may not have been covered during the assessment.
To download Guideline document, click here
To understand the uploading award application process on the portal, click here
To download Award application form click here